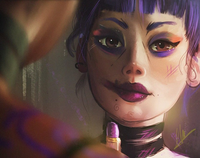 Tree is from Tree, Tree, British Indian Ocean Territory.
Thirteen Answers
What is the weirdest scar you have and how did you get it?
I have a strawberry colored birthmark in my neck from when a Mafia hit man assassinated my previous character.
Would you become a professional bank robber if you knew you would never get caught?
No, I would become a lottery player if I could see the future like this.
Would you go streaking across a football field during a game for a million dollars knowing theres a 50/50 chance youll get arrested for indecent exposure?
This depends on how high bail and/or fines would be.
Do you believe in Bigfoot?
I believe in all nouns, pro, proper, or otherwise.
Which Disney princess do you find to be the most attractive?
The big guy from Moana.
If you could got back in time 1,000 years, what year would you visit?
I mean, the only answer is now - 1000 years, isn't it?
What phobias have you overcome in your lifetime?
Fomo
If you could kill off any character from a current television show, who would it be?
Who.
What country would you never want to visit?
Texas.
If you inherited a single room off-the-grid cabin in the woods, would you be excited or disappointed?
How will I get my gridmail?
Describe the worst haircut you've ever had.
When I caught my head on fire the second time, and my hair was partially melted to my scalp.
If you inherited or won a million dollars, whats the very first thing you would do with the money?
Hire a financial planner.
If you had to spend the rest of your life as a tree what kind of tree would you be?
Me. I would be me, tyvm.