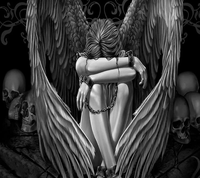 Trakel is from A little bit of everywhere., Not just one., United States.
Twelve Answers
Describe your own personal hell.
Sitting in a room with nothing to do, no one to interact with, for an inconceivable amount of time. I picture it as a white void, where it seems endless but is actually a rather small cube. Or maybe watching the love of my life be with someone else until death. Hard to say...
Would you like to live to be 200 years old?
And more, baby. But uhh.. only if eternal youth is a caveat.
Whats your favorite viral YouTube video?
Dramatic gopher.
If money were no object, where in the world would you choose to live?
If money weren't an object... I would live in Alaska, far but not too far from Anchorage. My house would be nice and cozy, but modernized and built to survive the harsh winters there. It would have all of the modern amenities as well. Sort of like.. a bastion of civilization in the untamed wilds.
If you had to spend the rest of your life as a tree what kind of tree would you be?
Maybe a Redwood? Or a Willow... probably a willow.
If you were about to be executed what five foods would have as your last meal?
Nagiri and Sushi, Pad Thai, Prime Rib with ajus and horse radish. And.... probably a loaded baked potato.
If you could rid the world of one disease what would it be?
Cancer.
If you inherited a single room off-the-grid cabin in the woods, would you be excited or disappointed?
Cookie Thumper! By Die Antwoord
If a theme song played every time you entered a room, what would it be?
undefined
If someone wrote a biography about you, what do you think the title should be?
A Series of Unfortunate Events.
Which Disney princess do you find to be the most attractive?
Elsa.
Would you rather be a judge or a lawyer?
Judge.