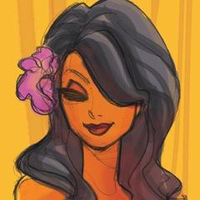 Honesty is from Mt. Healthy, OH, United States.
Eight Answers
What are two things you would do if you woke up to find yourself completely invisible?
The first thing I would do is eat breakfast in the mirror, and watch as my Kix cereal messily squiggled down my esophagus...next is anyone's guess. Lady's choice. What do you say, tiger?~♫
Have you ever been drunk in public?
No. Only privately. Though, I stopped drinking when this weird guy started reciting lyrics to C-Low songs to me, in my drunken stupor...
What song would you sing for your American Idol audition?
Some day my Prince will Come...ugh. Now I feel icky for admitting that...Or maybe Lucy in the sky with Diamonds. Am I high?
What famous artist, dead or alive, would you want to paint your portrait?
Probably Banksy...and I hope I'm not crazy for it. But defiantly Banksy.
If you could bring one fictional character to life, who would it be?
BINK, from Piers Anthony's Xanth~♥
Would you like to live to be 200 years old?
Give me a customizable cybernetic body and access to the internet...and I'll see how far I go.
What kind of phone was your first cell phone?
Two soup cans on a string...I swear.
What is your guilty pleasure?
Princess Birthday Cakes...you know, the cake with the doll stuffed in the top, with icing for the dress...